Congratulations to the Students Who Kick Butt, Class of 2015-16!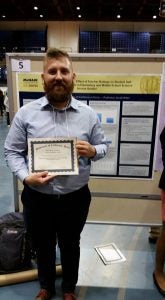 Photo Caption: David Castallano-Ladd presents his research: "Examining the Link between Teacher Ratings of Students' Ability and Gender Gaps in Elementary and Middle School Science Achievement"
David was recently selected as the sole recipient of the UC Davis Undergraduate Education Office's Outstanding Senior Award from the Department of Sociology. This award comes in recognition of his outstanding scholarship, engagement, and research.
David's selection as an SWKB Award winner also reflects his impressive personal accomplishments in the field of beard development during the 2015-16 academic year.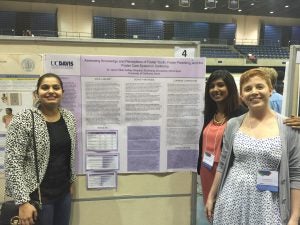 Photo Caption: (L to R) Nimra Syed, Shubhangi Srivastava, and Ashley Shepard present their research: "Assessing Knowledge and Perceptions of Foster Youth, Foster Parenting, and the Foster Care System in California."
Ashley, Shubhangi, and Nimra undertook an important, ambitious research project to assess the variety and extent of California adults' misconceptions about the foster care system. Keep an eye out for their forthcoming policy briefs on the Center for Poverty Research website, and for their educational intervention, "Not One Way," which promises to increase the number of caring, invested foster parents in the wake of major legislative changes to California's foster care system.
***Update***
Ashley was just named the recipient of the 2016 Charles Hess Award!!! A wonderful honor, and richly deserved. Congratulations, Ashley!
The Charles Hess Community Service Awards are in honor of the former Dean Charles E. Hess. These awards are to recognize and encourage more students to become involved in public/community service activities while in college and hopefully help them develop an attitude of wanting to share with others in need. The intent is to raise the status of being a volunteer within the College and University and then being a volunteer recognized in their community will become a part of their career aspirations. The following are the criteria:
Graduating Senior with the most noteworthy record of public/community service while at UC Davis.
Demonstrated expertise and an interest in serving humanity.
Volunteer from the College and University and in their community.
A record of academic excellence.